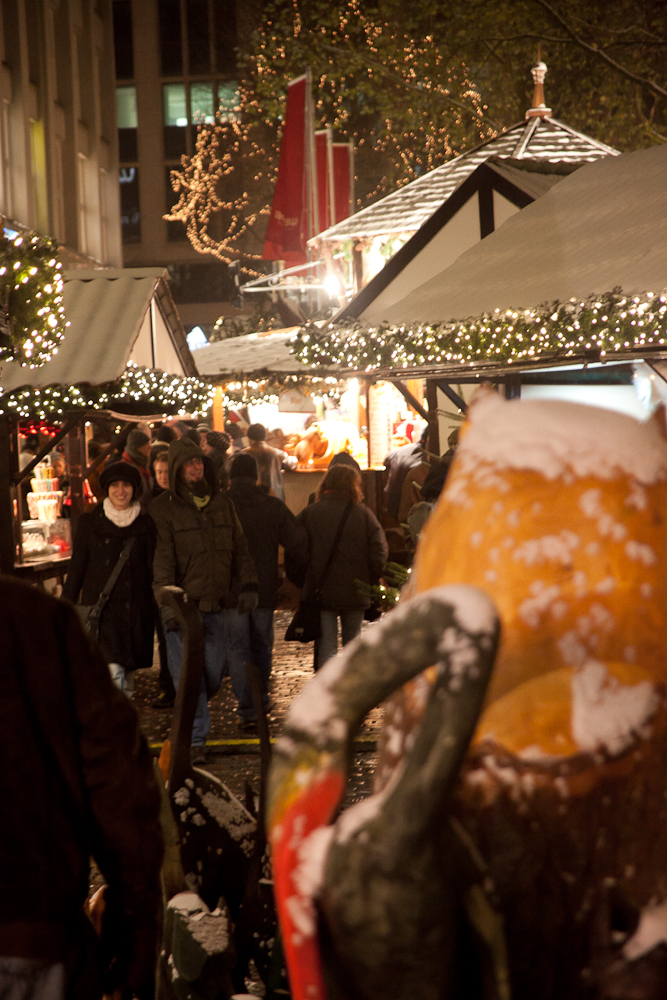 An insight into the Christmas traditions of Britain
As a resident of Hamburg for 3 years, I find there is always something unique and magical about the Christmas experience in Germany. As the brightly lit market stalls are erected around the town hall square and the smell of roasted chestnuts and cooked meats float gently through the evening air, workers pour out of their buildings like streams of mulled wine and head towards the city centre. So popular is the German Christmas tradition in fact, that British cities have started to import the whole experience to their marketplaces and town hall squares in order to bring a touch of German flair to the Christmas experience.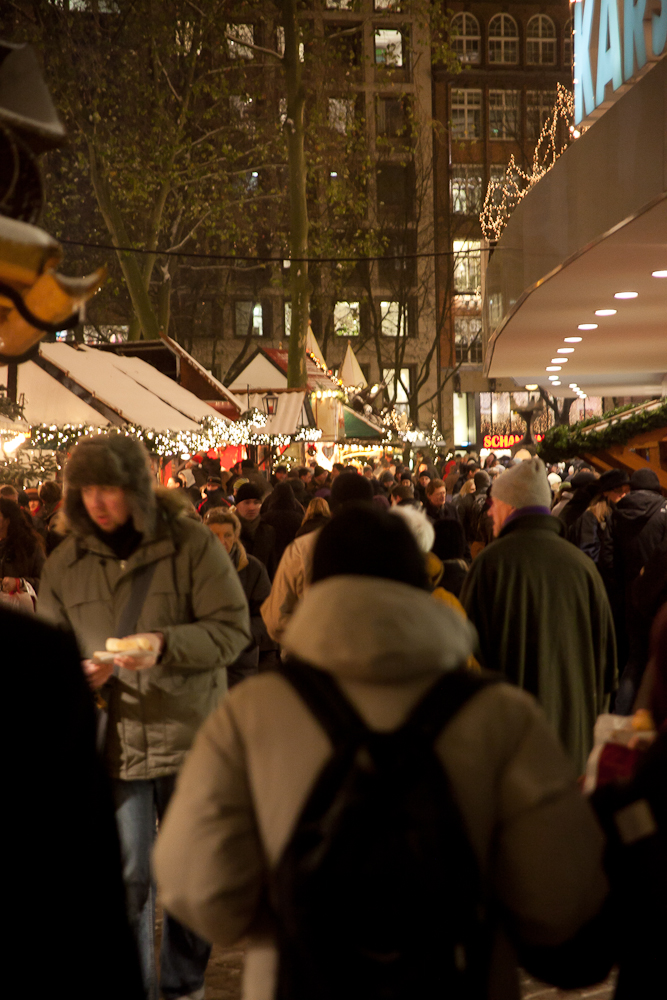 But, you are surely asking yourself, what are the normal British Christmas traditions that this nation of quirky Brits follow?
The whole season kicks off with the customary turning on of the Christmas lights in practically every city around Britain. This usually takes place in the last week of November with the ceremony usually opened by a TV celebrity (imagine a British version of Dieter Bohlen!) switching on the lights and Christmas trees in the main streets around the city. Flocks of people gather in the streets to see the lights come on and cheer the coming of the festive period.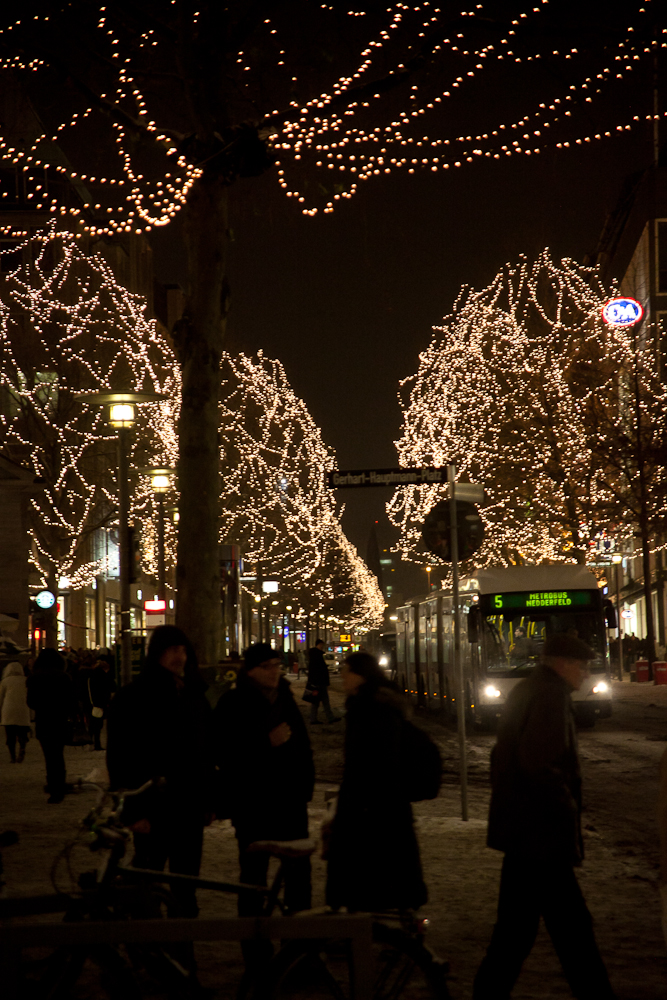 But it isn't only the city streets that are flushed with colour. Homes are decorated inside, with Christmas trees covered in silver and gold tinsel and coloured baubles and fresh wreaths hung on the front door as a sign of peace and goodwill. Some Brits, not always known for their modesty, also decorate the outside of their houses with all kinds of flashing lights, plastic cut-outs of Santa Claus and his Reindeers and even illuminated snowmen, sleighs and grottos. An invitation to a Christmas party is also an interesting experience in Britain. Look out for a green leafed plant with white berries called mistletoe hanging in doorways or from the ceiling in homes. If you are single and caught under the mistletoe by another single person, he or she will probably try to kiss you, whether you want to or not! This goes back to Celtic beliefs that mistletoe had the ability to heal wounds and increase fertility, as it remained green and had white berries in the dead of winter.
The tradition of Christmas carols also started in medieval England. Wandering musicians would travel from town to town visiting castles and homes of the rich. In return for their performance, the musicians would (if they were good) receive a hot meal or money. Nowadays, in the weeks before and around Christmas, choir groups of children and adults wrap up warm in coats, scarves and hats and walk around the neighbourhood, knocking on doors and singing traditional carol songs such as "We wish you a merry Christmas" and "Silent night". If you are good (and lucky enough to have knocked on a friendly neighbour's door!) they will reward you with hot mince pies, made of fruit and pastry and a glass of sherry.
Another person who looks forward to tasty mince pies and sherry is, of course, Santa Claus, or Father Christmas as he is known by many children (and adults!). Before going to bed on Christmas Eve (24th December), children hopeful of getting presents leave a glass of Sherry and warm mince pies next to the chimney for Father Christmas to eat. It is also traditional to leave some carrots for Rudolph and the reindeers too. When Father Christmas arrives (down the chimney, of course) he fills the children's stockings (a large sock) with chocolates and sweets, while the remaining presents are piled up high under the tree, ready to be opened by excited young boys and girls on Christmas Day (25th December). The main meal on Christmas day is usually Turkey. This is served with mouthwatering chestnut stuffing, carrots, sprouts, sausages, roast potatoes and gravy. Together, all these extras are known as trimmings. The centerpiece is a flaming Christmas pudding, made of various fruits with brandy butter. This is then set on fire before being eaten with cream or ice cream. (you can find the recipe for this delicious pudding at the end of this article).
The 26th December, or Boxing Day, is just as much a part of the festive season as the days before. The name Boxing Day comes from the wooden boxes which were placed in churches to be filled with presents for the poor. The tradition remains today and going to church is very popular on Boxing Day, no matter what the weather is like. Indeed, we Brits are sturdy folk and so there is always a full sporting calendar of football matches (no Winterpause for us!) which people traditionally watch live. Of course, if you don't want to stand outside shivering in the snow and rain watching the game, there is one place where you can go which belongs to the Christmas tradition across the whole world; the pub! Cheers!
Lewis Jaquest, training coordinator
Institute4Languages wishes you a very merry Christmas and a happy new year.
Christmas Pudding, serves 4
200 g / 7 oz currants 150 g / 5 ½ oz self-raising flour
200 g / 7 oz raisins 100 g / 3 ½ oz fresh white or wholemeal breadcrumbs
200 g / 7 oz sultanas 50 g / 1 ¾ oz blanched almonds, chopped juice of 1 orange
150 ml / 5 fl oz sweet sherry grated rind of ½ orange
175 g / 6 oz butter, plus extra for greasing grated rind of ½ lemon
175 g / 6 oz brown sugar ½ tsp ground mixed spice
4 eggs, beaten holly leaves, to decorate
1 Put the currants, raisins, and sultanas into a glass bowl and pour over the sherry. Leave to soak for at least 2 hours.
2 Mix the butter and sugar in a bowl. Beat in the eggs, then fold in the flour. Stir in the soaked fruit and sherry with the breadcrumbs, almonds, orange juice and rind, lemon rind and mixed spice. Grease a pudding basin and press the mixture into it, leaving a gap of 2.5 cm / 1 inch at the top. Cut a circle of greaseproof paper 3 cm / 1 ¼ inches larger then the top of the basin, grease with butter and place over the pudding. Secure with string, then top with 2 layers of foil. Place the pudding in a pan filled with boiling water which reaches two-thirds of the way up the basin. Reduce the heat and simmer for 6 hours, topping up with boiling water when necessary.
3 Remove from the heat and leave to cool. Renew the greaseproof paper and foil and refrigerate for 2-8 weeks. To reheat, steam for 2 hours as before. Decorate with holly and serve.
Tip: Leftover Christmas pudding makes a lovely dessert when cut into small portions and quickly fried in a little butter. Serve hot with some ice cream.